k52) Funkmeßortung in Norwegen 1940-45
German radar systems in this area 1940-1945
(Arnika, Flieder und Linde)
Part 2. Freya LZ, Freya Fahrstuhl, Wassermann and misc..

---

E.: WW2 German electronic equipment


29a IFF for bruk sammen med Freya, Type: FuG25a

Sidene er litt rotete, under endring, endel er flyttet rundt mellom side k51 og k52.
---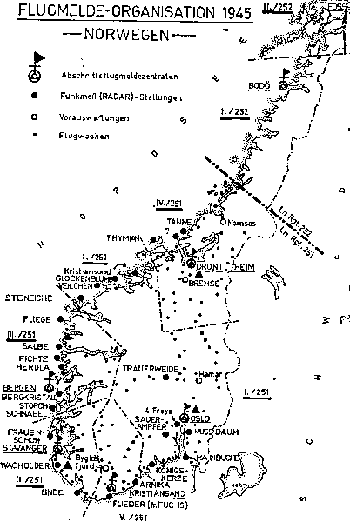 1. Map over German listening posts (FluWa) in Southern Norway
(click on the picture for larger size)

---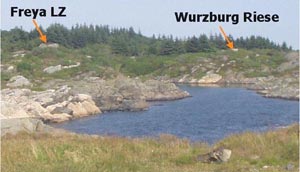 Positions for Freya LZ and the lowest Wurzburg Riese (Okslehavn, Flekkeröy, Kristiansand)
---

3a, b. Wassermann-M II long distance radar at Höyfjell, Flekkeröy in 1946(?) was a popular place to climb, too.
Position: 58°04'14" N 08°00'00" E
Thanks to Törres Akselsen for borrowing pictures from his album.
3c. Reference picture at Blaavandshuk. Atlantvolden fra Nymindegab til Skallingen (Vibeke B. Ebert) ISBN 87-980556-6-5.
Some more pictures are shown in Atlantvolden ved Ringkøping (Bent Bågøe Anthonisen) ISBN 87-981206-4-6,
also a picture of the Wassermann-M cable equalizer is shown - seen from below.
---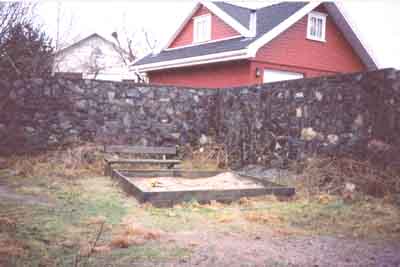 4. Wassermann-M (Flekkerøy - for Kriegsmarine) today. Only this wall is left to see, but it is wanted because it is a
pleasant place for the kids to play, some part was removed when one of the houses were built,
but was later repaired. Östrem's house is built above the bunker, you may just see a corner of rounded
concrete down the garden. The Wassermann-S (Säule) site at Vestre Hauge, Lista is quite easy to find,
but the bunker entrance is obstructed. Wassermann-M site at Hananger (Lista) was somewhere in the middle
of farming ground, and the farmer wasn't interested so all you may see is an acre, but the present farmer was
aware of where it had been located.
---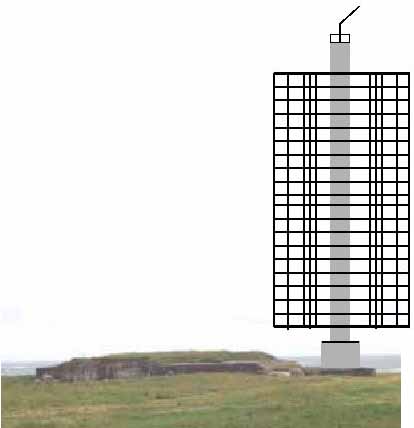 Wassermann S (Østre Hauge, Lista) reconstructed, based on pictures shown further down on this page
See: Fritz Trenkle: Die deutschen Funkmeßverfahren bis 1945. Note that the bunker is turned the other way around
compared to Regelbaut L 480. For the "normal L 480 bunker" the radar should have be seen on the left side.....

---
15a, b.
Wassermann S (Säule) bunker,
Østre Hauge, Lista
The antenna tower foot

---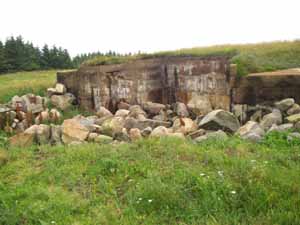 15c. The entrance is being blocked. 2 years ago the rubbish level was 3m lower

Radaren var i "Unterstand für Wassermann S, type 1" Regelbau L480. Inngangspartiet er
brukt som søppelforbrenningsanlegg i mange år, og det er ikke så fristende å
ta seg inn. Imdidlertid skal det være ca. 8 rom i bunkeren, inkl. eget
aggregat for strøm. Total dekker bunkeren 1460 m3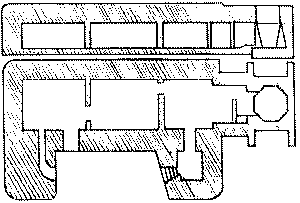 15d. Radarbunker B24 (Unterstand für Wassermann S).
This drawing is mirrored in respect of Regelbaut L_480.
Measures for the bunker is 29.4m L x 9.1m b x 4.42m H.
See Terschelling en zijn rol in de Luchtoorlog "Tigerstelling" door P. van Leeuwen, 1995.
---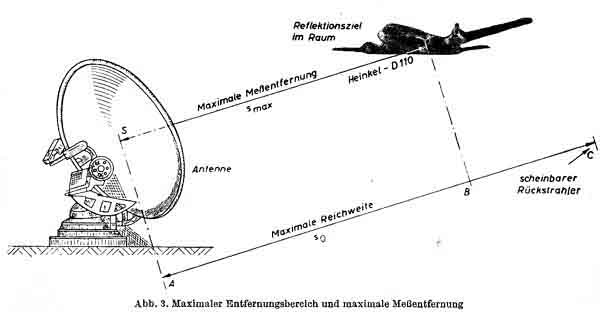 1A) se Handbuch für Hochfrequenz- und Elektro-Techkniker II Band (1953) pp456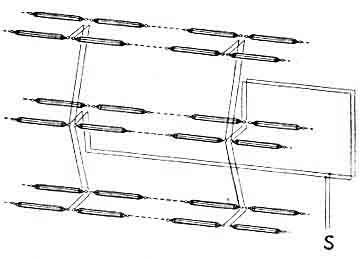 1B) Freya-, Wassermann-antenneteknikk,
se Handbuch für Hochfrequenz- und Elektro-Techkniker II Band (1953) pp376


---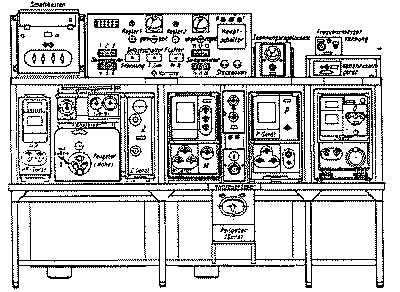 1c) Gerätesatz der "Wassermann"-Anlagen
[Fernsuchanlagen Wassermann, Nachrichten-Versuchsregiment H.l.n.T.L Cottbus (FMG]
Schon bald nach Kriegsbeginn forderte da RLM und die Kriegsmarine sog. "Frühwarnalagen". Das sollten Geräte sein,
die die Reichweite des "Freya"-Gerätes um ein Vielfaches übertreffen sollten. Da bekannterweise eine Verdoppelung der
Reichweite bei gleicher Senderleistung die vierfache Antennenfläche erfordert, wählte man zunächtst eine Antennenanordnung
von vier "Freya"-Antennen übereinander. Dies erforderte einen Gittermast von 36m Höhe zur Befestigung dieser Dipolgruppen-
Antenne. Die Sende- und Empfangs-Anlage bestand im Wesentlichen aus dem "Freya"-Gerätesatz in einer drehbahren
Gerätehütte, auf die der Antennenmast aufgesetzt war. Die Abspannseile endeten oben in einem Drehlager. Die Drehung
von Hütte und Mast erfolgte auf einem Drehkranz, der von einem ferngesteuerten Leonard-Satz angetrieben wurde.

---

1d) Freya-, Wassermann-antennetechnik.
---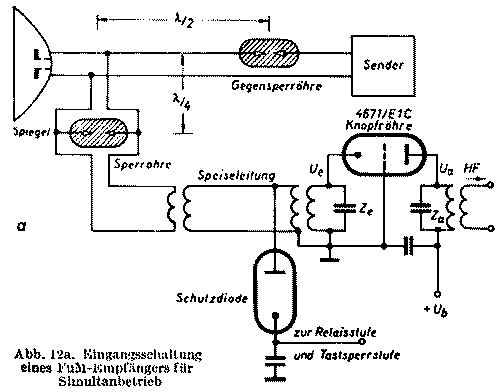 1e) Inngangskopling (4671=955) 125-160MHz, se Handbuch für Hochfrequenz- und Elektro-Techkniker II Band (1953) pp471
noe tilsvarende finnes også beskrevet i Deckname "Würzburg" (Arthur O. Bauer PAoAOB).
For mer moderne anvendelse av tilsvarende kopling, se SM5BSZ for kopling med PIN dioder.

Technisches Daten (Funkmeßempfänger):

Lorenz A2-Gerätes, F=480MHz,
ZF=4,2MHz, ZF-Bandbreite 0,5MHz, Empfindlichkeit 250kTo

Lorenz FuMG39L, F=480MHz,
ZF=4,2MHz, ZF-Bandbreite 1MHz, Empfindlichkeit 250kTo

Lorenz FuMG40L, wie A2 Gerät, F= 560MHz,
ZF=4,2MHz, Bandbreite 1MHz, Empfindlichkeit 250kTo

Lorenz FuG200 "Hohentwiel" - F=550MHz
1.ZF 8,4MHz, 2.ZF=6,3MHz, Bandbreite zunächst 0,7MHz, später 1,2MHz, Empfindlichkeit 40kTo

Dr.-Ing. Gotthard Müller "Funkmeßgeräte-Entwicklung bei der C. Lorenz AG 1935-1945", SEL-ALCATEL, Stuttgart, Januar 1979/Dez.81
---

1f) PA0SE Dick Rollema, Electron, Augustus 1991 - om hvordan man oppnår stabilitet med frittsvingende oscillator

---
2) List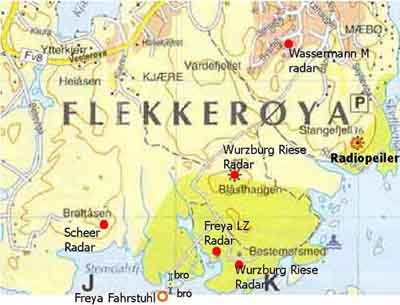 2) Det beste kartutsnittet jeg fant for aktuelt område ved Okslehavn på Flekkerøy er kopiert fra siste utgave av Kristiansandskartet,
som er utgitt av Kristiansand Oppmålingsvesen 1994, 1:25000.

List of the main radar-stations in the Okslehavn area:
| | | |
| --- | --- | --- |
| Wassermann M2 | 58° 04' 14" N 08° 00' 00"E | Höyfjell |
| FuMO214 Wurzburg Riese. | 58° 03' 59,4N 07° 59' 47,3"E | (Blaasthaugen) |
| FuMO214 Wurzburg Riese. | 58° 03'47,8N 07° 59' 46,9"E | (Bestemorsmed?) |
| Freya-LZ | 58° 03' 49,4" N 07° 59 43,9" E | (Bestemorsmed) |
| Freya-Fahrstuhl (LZ) | 58° 03' 45" N 07° 59' 40"E | Daudmannsholmen |
| FuMO 15 Scheer or FuMO214 W.R. | 58° 04' 55" N 07° 59' 30 E**) | Brattaasen |
**) GPS position for the Brattaasen site: UTM 32V 04 40.206E, 64 36.347N

May have to check later that I have used my own GPS positions and not mixed up with trash positions found on another site

Radar at Justöy (Lillesand), see K.53 , Radarstations in Rogaland K.56
| | | |
| --- | --- | --- |
| FuMO214 Wurzburg Riese | GPS: UTM 32V 04 62.904E. 64 52.289N | Vedefjell (Kystvaktstasjon) |
---
3) Freya-LZ


3a) LZ-Stand (Gesamtansicht), Flum8, Flugmeldedienst, Heft 8, Freya-Fibel, Anlage 7 (Reichsdruckerei 1943)
Arbeitsdokument für den nachrichtentechnischen Unterricht.

3b) Freya-LZ (Lufttransportabel und zerlegbar - 125MHz, 107/150MHz)

3c) LZ radarkonstruksjon uten antenner (under redigering, se Freya-Fahrstuhl konstruksjon nedenfor)
De beste tegningen av Freya (FMG39G-fb) og Freya LZ (FMG40G-fb) antenner er trolig i
Confound & Destroy (Martin Streetly) side 183 og 184 (ISBN 0-7106-0356-8)

---
| | |
| --- | --- |
| 3d | 3e |

3d) Rester av Freya-LZ lafett i Okslehavn før det ble hentet inn til Kanonmuseet.
Samme lafett er brukt i mange forskjellige andre sammenhenger.
Hvis det ikke blir lagret der, kan vi vel bedre flytte det til Flymuseet på Sola?
3e) Den typiske Freya muren sett sydfra
---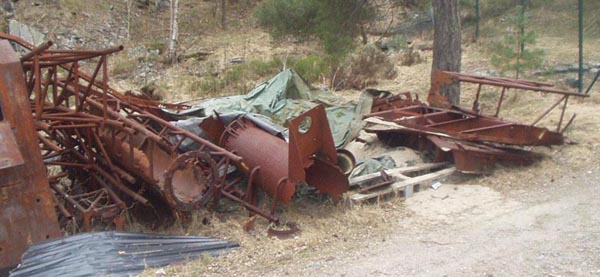 3f) Rester av Freya-LZ fra Flekkeröy, ligger og ruster istykker i Sorgens dal.
Viktig å ta vare på for eventuelt å kunne rekonstruere
eller verfisere at det har vært en slik radar på Flekkerøy (Sorgens dal, Møvik kanonmuseum).


---
| | |
| --- | --- |
| 3g) | 3h) |

3g) Freya-LZ. Det som nå står igjen på Flekkerøy er en rusten ramme, 72x72cm i firkant, 70cm høy.

3h) Freya-LZ. Målskisse av dette


---
| | |
| --- | --- |
| 3j) | 3k) |

3j) Muren for Freya-LZ radar sett innenfra mot inngangen (nord). Muren er 440cm høy utenfor foran, 370cm bak, og 325-330cm sett innenfra
3k) Sammenligningsbilde fra R.V. Jones "Most Secret War", Beams on the wane, side 279 (Fig.9)

---

6. Freya LZ (Lufttransportabel-Zerlegbar) site at Okslehavn (Flekkeröy), it is a typical wall described in
R.V. Jones "The Secret War". Pos: 58° 03' 49,4"N 07° 59' 43,9"E

---
4) Freya-Fahrstuhl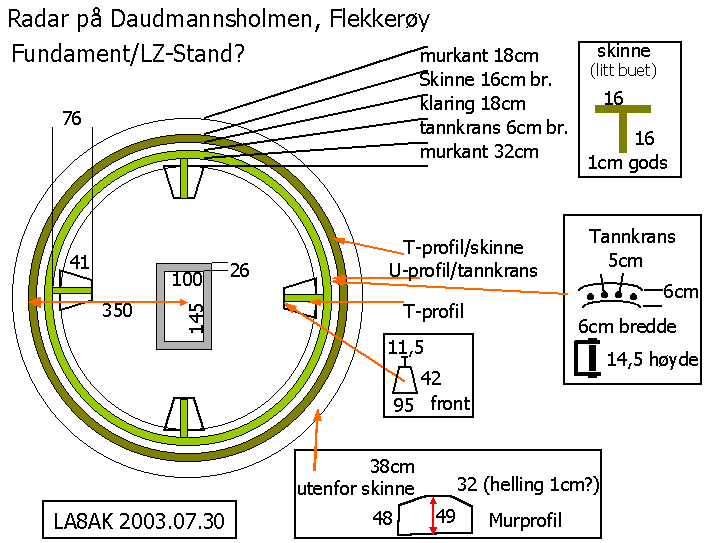 4a) Stillingen på Daudmannsholmen (Okslehavn, Flekkerøy) forvirret meg.
Det må være Freya-Fahrstuhl i LZ utgave, se Trenkle; Die dt. Funkmeßverfahren
bis 1945, side 77 (nr 2: Freya Fahrstuhl mit 20m Gestellen auf Schienenkranz). Se min tegning.
Diameter for skinne er 7m, mot hva Trenkle oppgir som 6m for en tidligere konstruksjon, antakelig
er stillingen på Flekkeröy en senere utgave i alle fall - tilpasset Freya-LZ.

Position: 58 03 49,4N 07°59'43,9"E
Eventuelt kan en sjekke mot Regelbauten oversikt.
Copyright J M Nøding

---
| | |
| --- | --- |
| 4b) | 4c) |

4b) Bilde av Freya-Fahrstuhl-stillingen på Daudmannsholmen, med anmerkning for Wurzburg Riese og
Freya-LZ i bakgrunnen, Wurzburg Riese (FuMO214) på Blåsthaugen kommer noe oppe til venstre for kanten av bildet,
se kartutsnitt for Okslehavn-området ovenfor.

4c) The possible Freya-Fahrstuhl antenna tower,
an edited version of Trenkle's picture, Die deutsche Funkmeßverfahren bis 1945 - page 77 (2nd picture)
J.E. Fjörtoft says this is the only such version found in Norway, and it was a similar site in Denmark
---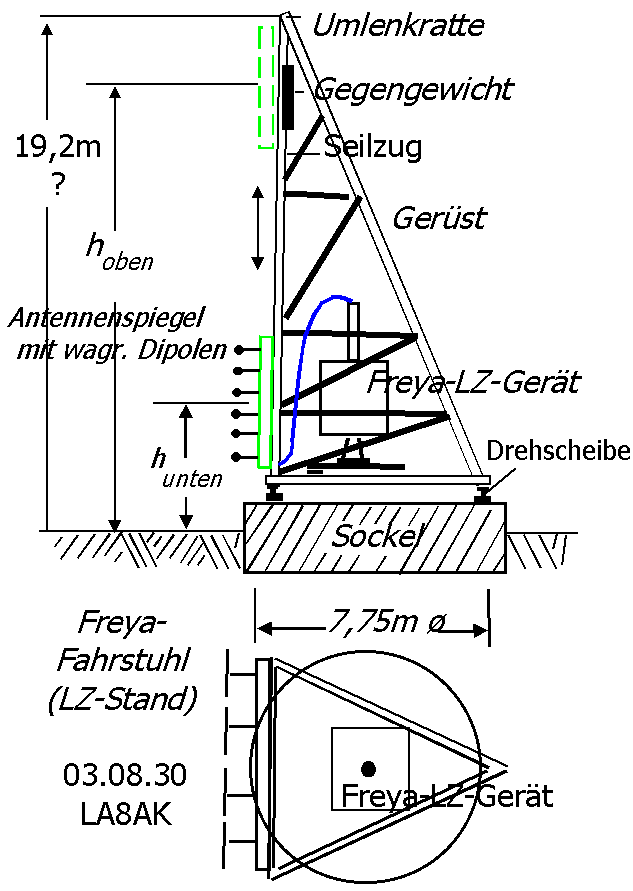 4d) Freya-Fahrstuhl antenna tower

Der "Freya-Fahrstuhl"
Aufgabe:
Der Freya-Fahrstuhl dient zur Flughöhen-Messung. Mit einem normalen Freya-Gerät (F-Lafette oder LZ-Stand)
soll durch Anwendung des Fahrstuhl-Prinzips einer zuverlässige Höhenbestimmung des angepeilten Flugzieles
durchgeführt werden.

Aufbau einer Fahrstuhl-Anlage:
Auf einem 2-5m hohen Betongsockel ist eine Drehscheibe von 8m Ø aufgebaut, auf welcher ein
fahrstuhlartiges Eisengerüst von etw 20m Höhe befestigt ist. Auf der drehbaren Plattform ist das
Freya-Gerät aufgestellt. An dem Eisengerüst, bzw. in dem Aufzugrahmen ist eine Planspiegelantenne
mit waagerechten Dipolen und Simultankasten (Sonderfertigung) aufgehängt, welche durch ein
elektrisches Hubwerk auf- und abwärts bewegt werden kann. Das F-Gerät (ohne Spiegel) ist mit
dem Fahrstuhl-Spiegel durch verlängerte Kabel (1 Empfänger-HF-Kabel, 3 Stromversorgungskabel
zum Sender) verbunden. Am Beobachtungsplatz im Gerät sind zusätzlich die Bedienungsschalter
und Anzeigegeräte für das HUbwerk und Drehwerk eingebaut.

Source:
Die Weiterentwicklung von Zusatzgeräten für Funkmeßanlagen zur Erhöhung der Peilgenauigkeit
und gegen feindliche Störversuche. Nachrichten-Versuchs-Regiment-Köthen (1944) - Geheim!

The book is available from Werner Gierlach, DL6VW
---
Se bilde 3c for Freya-LZ uten antenner for bruk til Freya-Fahrstuhl konstruksjon
---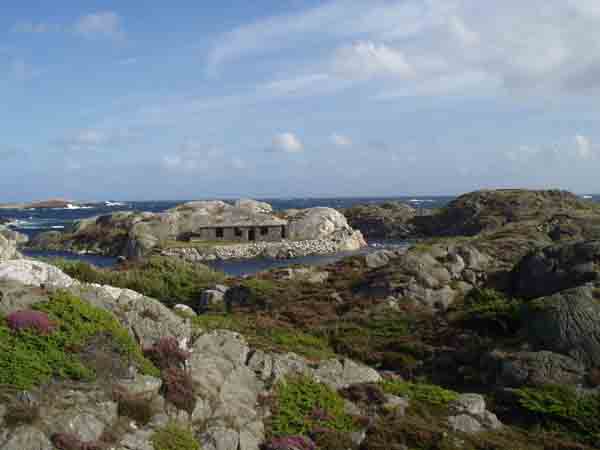 4e) Steinhuset (Stellungszentrale =Befehlzentrale), dette er egentlig landfast med Flekkerøya. En ser tydelig hvor første av de to broseksjoner har vært.
Knatten med Freya-Fahrstuhl var på toppen til høyre i bakgrunnen (på Daudmannsholmen).

Bygningen ble i 60'årene brukt av Telegrafverket til kystradio-senderstasjon (LGR - betjent fra Farsund radio på Østre Hauge),
dette anlegget ble senere flyttet til Beltevika. Flekkerøymobben har senere ødelagt alt som kan ødelegges i steinhuset.

Adkomst: Litt til venstre i forhold til bildet kan du følge en rygg ut til det, og videre ved lavvann balansere tørrskodd på steiner som er fyllt ut over til
Daudmannsholmen




om Flekkerøy radiotelegrafstasjon

---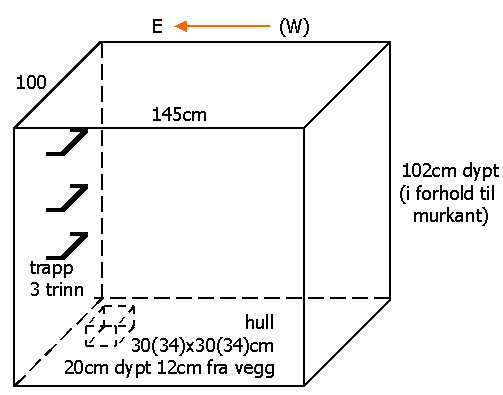 Freya Fahrstuhl. Tegning av hullet i stillingen
---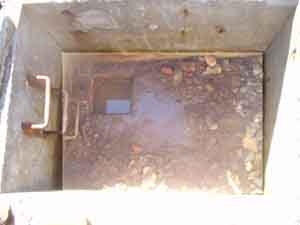 Har gravd opp steinrøysa i hullet for å se hva som er der nede
---
5) Flere detaljer for radarstillingen m/antenne på Daudmannsholmen:

5a...f). Bilde 5a viser en delvis intakt LZ-type (ref.: Freya-LZ) masteseksjon, 60cm ID og 140cm lang.
Det smalere røret (til høyre) har 33cm indre diameter, men er rustet i stykker så jeg vet ikke hva lengden har vært.
De andre bildene viser forskjellige detaljer jeg fant verdt å fotografere.

Merk at det angivelig var en noe enklere radiopeiler på Stangfjellet, men jeg har ikke rukket dit, og heller ikke
sjekket opp aktuelle personer som måtte kunne gi noen forklaringer på hvordan det kan ha sett ut, bare
Aksel Tørressens utsagn for at det har vært en hytte med "T-antenne" der.


---

9b) "Y-Peiler Heinrich II", Stangfjellet. The cottage has obviously been fixed with 5 or more 10mm diameter bolts,

---
9c. Another "Y-Peiler" is also found at Bestemorsmed, but with a thurnderstorm approaching I didn't try to make
a new GPS reading in UTM, the old is: 58° 03' 48.6" N 08° 00 08.4 E. Counted 5x M10 bolts here, too.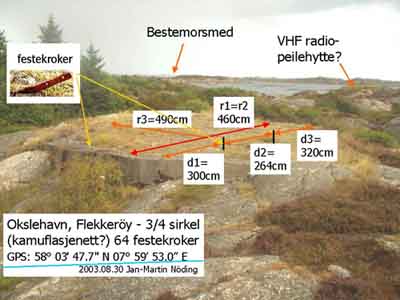 9d. Another mystery site between Bestemorsmed and the radars at Okslehavn is shown here, could it be
infra-red or heat radiation measurement site (it is mentioned by a local officer, but I have no clues), it might have been something simple as a barrack.
---
| | |
| --- | --- |
| | cottage detail |

9e. The picture (dated 1947) shows a "Y-Peiler Heinrich II" at Storefjell (Vanse).

I suspect that similar cottages could have been used for the previous positions on Flekkerö Island -
without the tower. At least it is known that this sort of cottage was in Norway.
Suppose it was a German radio link station on this mountain, too. The wooden tower was removed in 1984.
Hope to edit the picture to make it look better than the simple editing I did in a hurry. Tnx to Erik Thomassen, LA6TJA.

Refr.: Y-Peiler "Heinrich II" für die Jägerführung, S.190, Die deutschen Funkführungsverfahren bis 1945 (Fritz Trenkle).
Ref: Jägerleit-Stellungen i Danmark, pg 64: Y-Anlage bestående av pejletårn, peilehytte og barak med afstandsmåler. Sammen med en lille barak med sender og sendemast udgjorde dette en Y-Linie. Billedet er taget ved vestkysten. Bok: Carsten Pedersen, Luftkrig over Danmark Bind III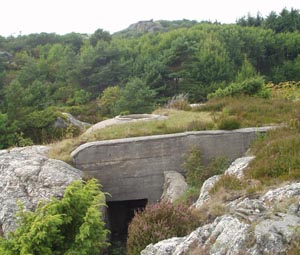 13) Luftwaffe area in Okslehavn. It is a lot of MG sites around,
here is one of the western sites - Brattaasen (radar site for Batteri Vara) in the background

---

Bilder av M.M. Nøding fra Mandal i tidsrommet 1940-46, se side K.42

Refr.: Sonstige Maschinensätze mit Verbrennungsmotor,
sehe Reinhard Helsper: Zubehör für Wehrmachtsgeräte (Zubehör Führer)
- available book from Werner Gierlach


---
---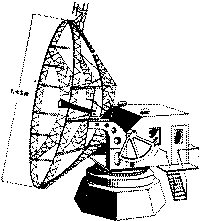 Giant Wurzburg=Wurzburg Riese (FuMO214).
Directory of German Radar Equipment 1945 - TME11-219 (War Department Technical Manual)

---

---


To German radar mainpage

To German radio equipment mainpage
Re-edited: 2004.10.03