d6. VHF technik (6m)
Reference page: D2. 2m-up
---
The page is under construction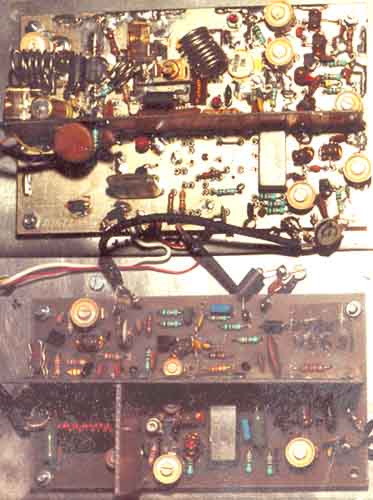 My first 6m transverter, based on DJ6ZZ 2m TX-converter board (UKW-Berichte), and my own RX-converter construction.
I was the first Norwegian radio amateur QRV on 6m ssb/cw in january 1985, some other followed in february..

---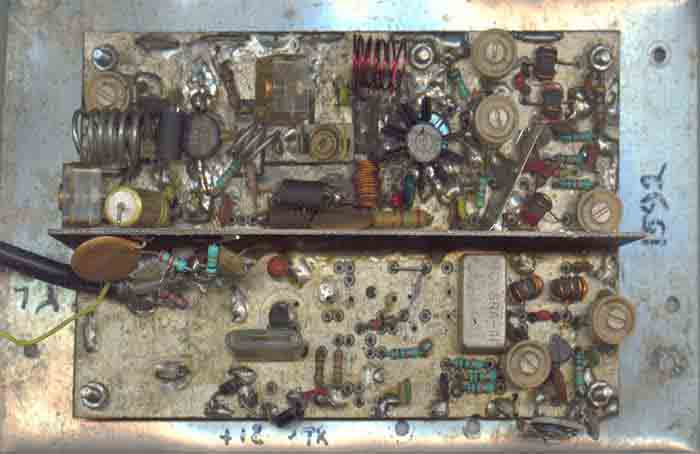 A closer look at DJ6ZZ 005B transverter (TX) board which was originally constructed for 2m operation, the board may esily be adapted for ssb/cw operation on other bands. A TRW PT4318A is used to achieve 2W PEP output, but this is not at all critical, we alsways use what is nearest on the table! Some small iron powder toroid cores were available almost free at LA2AB, but I don't really know the equivalent.
---
6m transverter based on the PW Meon transverter with 2N6082 20W 19dB gain linear amplifier

---

6m PA using 2N6083 or 2N6084, Similar stage is built by SM6HYG, LA8OJ and LA8AK and gain seem to be 19-20dB
independent on which of the two transistors are used. Usually 2m power devices have similar gain on 6m. Earlier used 2N5591.

A suggested way to place the most critical components. A tinned iron plate is attached to aluminium chassis plate foreasier solder
connection to ground. Some trimmer capacitors are difficult to mount without pcb, so is the 100pF capacitors on input and input, and
they are mounted on a piece of pcb laminate which is then soldered to the tinned plate. The amount of
100pf disc in the base circuit is found experimentally, you add more capacitors as long as gain increases.

Attenuator to use between transverter and PA to stabilize impedance and avoid instabilities, at least 1dB is recommended.
1dB: 5.6/820W , 2dB: 12/470W, 3dB: 18/330W.

---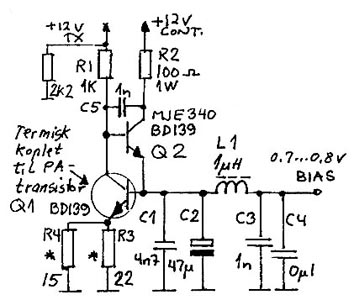 Bias regulator for 6m PA, R2 is current limiter for the base current.

The PA was described in details in Amatör Radio nr 6/92 and the Swedish 'QTC' around 1990.
---
250W (350W?) 6m linear amplifier using sweep tubes (EL509/PL509, PL519 ?).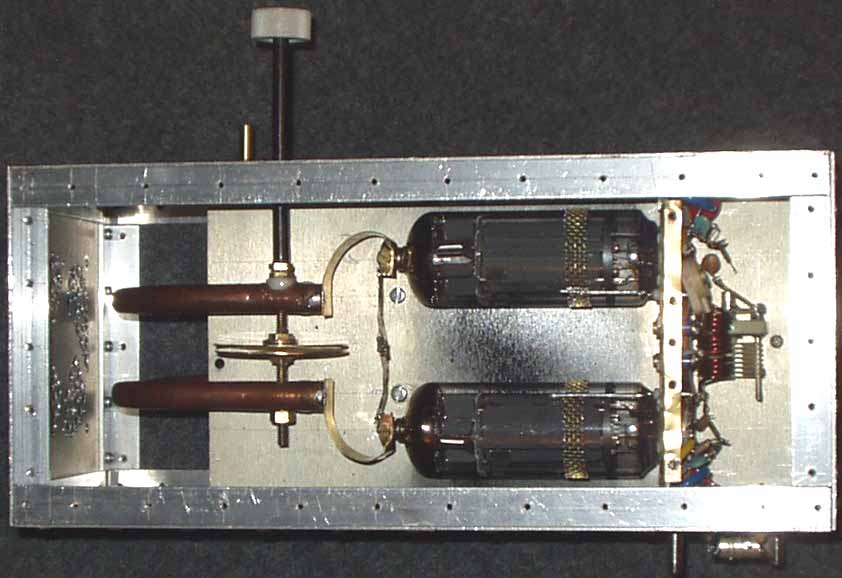 Note the neutralizing method with plates moved along the lower side of the tubes (EL509).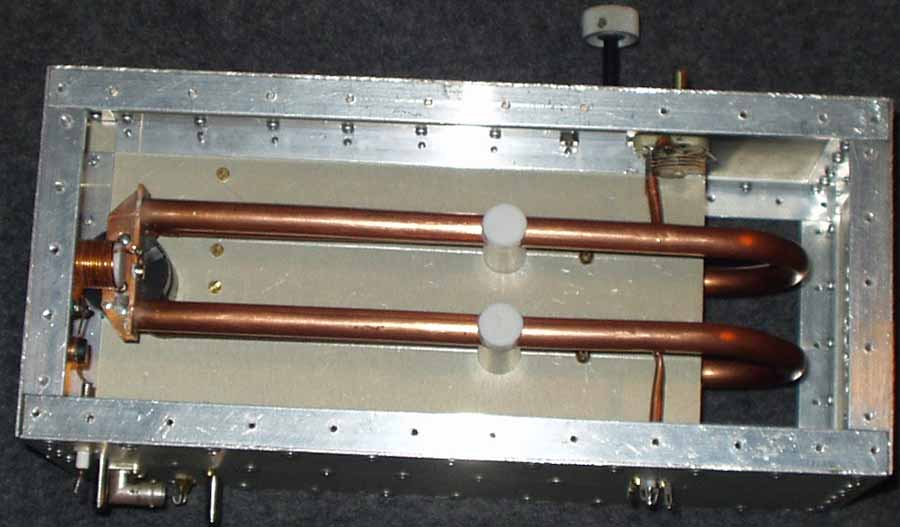 Experimental 50MHz linear power amplifier using 2x EL509/PL509 (250W RF)



Norwegian text:
Det har vært noen forespørsler om å bruke EL509 på 6m, og det eneste som er
funnet er en notis i technical topics om at det skal være mulig (se Radcom,
med forfatter G3VA), men det er ikke rare detaljene. Nå kan jeg gi litt mere
detaljer og vise bilder av et trinn.

Han mener å få 250W ut av med 6-700V anodespenning.
bare for å vise at det er noen som bygger ting, her et 6m PA trinn som bør kunne gi
minst 250-300W ut med 6-700V anodespenning. Inngangskretsen har
loaded Q på 1,5, mens utgangskretsen har Q=3, det burde klare 6m båndet uten
å stille om. Det er brukt 200 ohms anodelinje. Mange bruker for høy impedans
her og får dårlig virkningsgrad og andre uhumskheter.

Mange andre og bedre rør kan sikkert brukes, men PL509/EL509 har sine sider
som det kunne være morsomt å prøve seg på å takle. Spesielt interessant er
det lave anodespenningen det kan kjøres på, dessuten er det vel det
kraftigste sweeprøret man kan finne. Det kan trekke 1A med +40V på anoden
(saturation voltage er noe lavere enn ellers), mens et rør som 807 neppe klarer 300mA.
Ved å tilføre 50V positiv spenning på
fanggitter kan røret lineariseres for forvrengning ved lav anodespenning.

De viste motstandene mellom anodene er bare til test for å sjekke
neutraliseringen - med 10W drive tilkoplet HF-utgangen fra FT726 kan man
trimme neutraliseringen med de utvendige platene rundt rørene, og det er
bare mikrowatt på rørkretsen fra 2m transceiveren.

English text translation will be written later.
---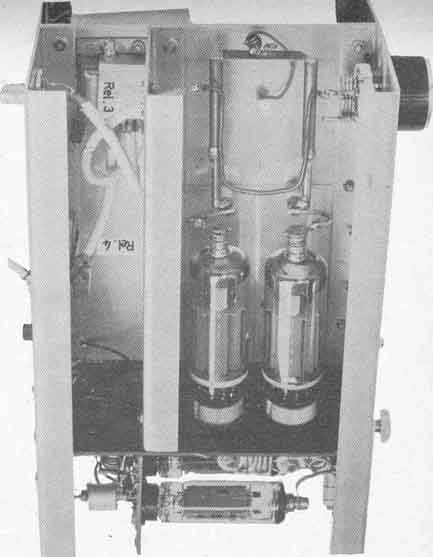 2x PL504 linear amplifier for 144MHz shown in UKW Berichte nr 3/68.

Reference: UKW Berichte Nr 3/68. 200W PEP auf 145MHz mit zwei röhren PL504 von V. Thun, DJ7ZV, pg. 121.....136.
Addition in UKW Berichte Nr 4/68, pg 234
This runs the tubes extremely hard and probably questionable linearity, and PL509/PL519 much more powerful, so results could be increased similarly.
The article says "(5. Lecher-Leiterungskreis): Da die Röhren ser heiß werden, empfielt es sich, für sehr guten Kontakt aller Drähte zu sorgen.
Evtl. muß man die Drähte und die Anoden-Anschlußkappen erst quetschen und dann anlöten."

The tubes become very hot and precautions should be taken against this! Probably are they running too hard......
PL509 = 40KG6, EL509 = 6KG6.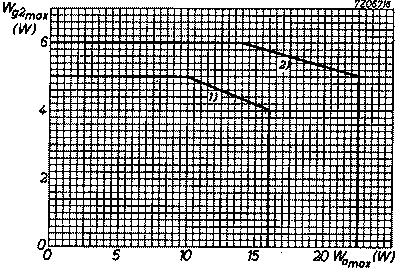 EL/PL504 limiting power



EL509/PL509 Limiting data
---

---
Last update: 2004.12.25