Mains adapters
---
Some of the mains adapters I've collected from work during the last years.

My intention is not to show the specification of a particular unit, but to show the variety available
in this part of Europe. Found a lot at work, and believe it is some degree of variation.
Have not analysed which possibilities they give to decide which purpose they can be used for,
but I need to use some in a combination with another transformers to transform from low volt to 100v
or similar for surplus equipment anode voltage.

So instead of discarding an old adapter, keep it or bring it to the local radio rally,
it may just be what somebody else is looking for.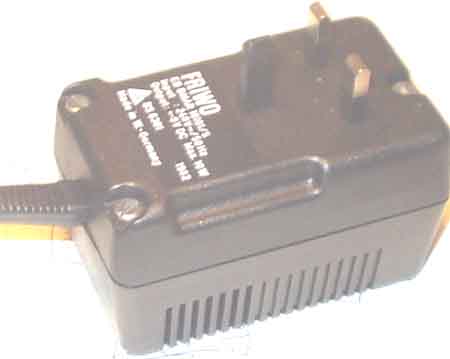 FRIWO EB BMAR 10101/5 (BS6301)
---
DVE Model NO:DV - 1250UP 230VAV 50Hz 7W, output 12VDC 500mA
Friwo EB BMAR 10101/5 240VAV 50Hz, 2x9VDC 10W (W.Germany) BS6301 (mni)
FW6299 230V 50Hz 13.5VA, 16V 500mA 9.5VA
FW6799 220VAC 50Hz 23VA, 9VAC 1.3A 11,7VA
FW68 220v 50Hz 16VA, output 2x9V DC 530mA, fuse/pri 100mA, fuse/sec 800mA slow
Mascot 696 220VAC 50Hz, 2x9VDC (13VDC) 4,8W
Mascot 696T mod 82 220VAC 50Hz, 12V...16VDC max 4.8W (2x)
Mascot 8310 230VAC 50/60Hz 30mA, 7.5VAC 350mA
Mascot type 8511 220V 50Hz Output 12VAC max 9.5W (2)
Microcom AP2067E 230v 100mA 20W, 16VAV 700mA (8x)
Model 4112T12B (TBK) 220VAC 50Hz, output 12VAC 500mA 6VA
Model 48A.18-900 230V 50Hz 25W Output 18VAC 900mA 16.2VA
Model 48A-12-1000E (Ever Glow) 230VAC 50Hz, 12VDC 1000mA 12.0VA
Model AD01 220VAC 50Hz 11VA, 7,5VDC 0,5A 3.75VA
Motorola SPN 4278E 100-240VAC 50-60Hz output 4.4VDC 1.1A
Nortel PH-1283V 220V 50Hz 14W outp 12vac 830mA
Panasonic 115/200/220/240VAC 6W, 12V 200mA
Philips AP6003 AC/DC adapter 220v 16VA, Output: 9v DC 700mA 6.3VA
Philips FW4299 220V 50Hz 10VA output: 15.5VDC 400mA
Radio Shack AC120V 60Hz 10W, DC12V 400mA
SPN 4034A 220V 50Hz 11VA, output 24VAC 290mA 7VA
SPN 4037A 230VAC 50Hz, 8.5VAC 10.8W
SPN4084A 220V 50Hz 10VA, 12,5VDC 400mA
Texas Instr. Adapter 220V 50Hz 0.23A, 20VAC 1.85A
Type 78970 220VAC 50Hz, output 4.1V 125mA, cap 1.2Ah(Ni.Cd) for vacuum cleaner
Type JDA J5-17 230V 50Hz, output 17VDC 400mA 6.80VA (for 14.4V drill) Jinding Electric Tools Group Co
WG Typ A813 220V 50Hz output: 28VDC 20mA

---
Search word: Batteri eleminator, battery eliminator, transformer
Updated: 2004.01.18